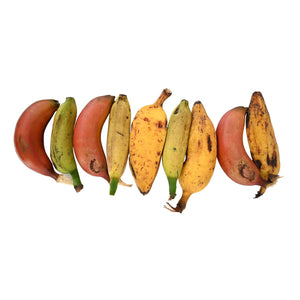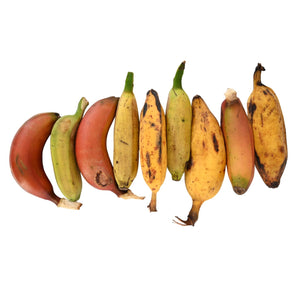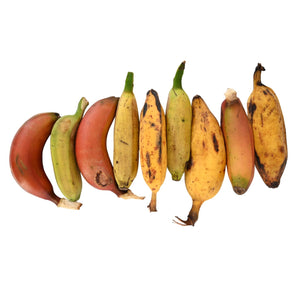 Bananas originated in Southeast Asia and Papua New Guinea. Today there are over 1000 banana varieties. Here in South Florida there are a variety of bananas we are able to source and ship to you including but not limited to: Namwah , Burro, Mysore, Raja Puri, Red, Praying Hands, Blue Java, Lacatan, Saba, Gold Finger, Mona Lisa and many more! Bananas can vary in flavor, size, and even color. This box contains a variety of at least two types of bananas that are freshly harvested every week.
ORDERS ARE SHIPPED  MONDAY-FRIDAY ON A BI-WEEKLY BASIS. WE MAKE EVERY EFFORT TO SHIP ALL ORDERS AS QUICKLY AS POSSIBLE TYPICALLY BETWEEN 2-14 BUSINESS DAYS. PLEASE NOTE: SHIPPING TIME AND COST PERTAINS TO THE TIME THE PACKAGE IS IN TRANSIT, NOT THE TIME IT TAKES FOR THE ORDER TO BE DELIVERED UPON PLACING THE ORDER.
-PLEASE READ FULL REFUND POLICY BEFORE PLACING AN ORDER. 

-*PRE ORDER* = FRUIT IS NOT IN SEASON. IF YOU PLACE AN ORDER FOR AN ITEM LISTED AS *PRE ORDER* YOU ARE SECURING YOUR BOX TO BE SHIPPED ONCE THE FRUIT IS BACK IN SEASON OR AVAILABLE.
Ripening Guide:
Bananas are shipped mature and unripe, however may arrive ripe upon delivery. The fruit is ready to eat when dark speckles begin to appear on the skin of the fruit. The more speckles , the sweeter the banana.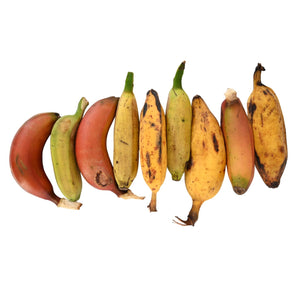 Another beautiful box
I will continue buying banana boxes for both myself and as gifts. They're the most reasonably priced banana variety box that I've found. Thank you!!
Amazing!!
We ordered a large box, and we're pleased with the variety, quality, and packaging. We will be ordering again
Delicious, but...
The bananas are delicious, but it would be nice to know what I'm eating. With so many banana varieties, couldn't you provide consumers with a guide to what's in the box?