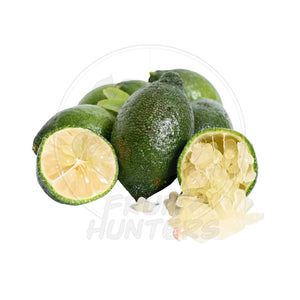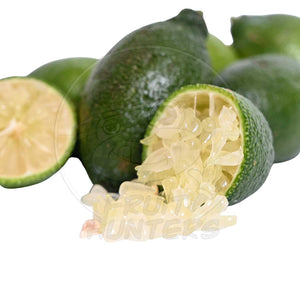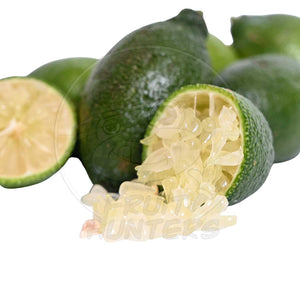 Citrus australasica, the Australian finger lime or caviar lime, is a thorny shrub or small tree of the rainforest in the coastal border region of Australia. These finger shaped, micro citrus fruits are filled with tiny, delicate, citrus pearls. Caviar limes have tiny citrus pulp that are mildly sour and sweet. Each individual pulp bubble contains citrus juice that bursts with bold flavor. They are often used in a variety of culinary dishes such as, sushi, salads and desserts. We only source our finger limes from a USDA Certified organic farm in Sunny South Florida!
 ORDERS ARE SHIPPED  MONDAY-FRIDAY ON A BI-WEEKLY BASIS. WE MAKE EVERY EFFORT TO SHIP ALL ORDERS AS QUICKLY AS POSSIBLE TYPICALLY BETWEEN 2-14 BUSINESS DAYS. PLEASE NOTE: SHIPPING TIME AND COST PERTAINS TO THE TIME THE PACKAGE IS IN TRANSIT, NOT THE TIME IT TAKES FOR THE ORDER TO BE DELIVERED UPON PLACING THE ORDER.
-PLEASE READ FULL REFUND POLICY BEFORE PLACING AN ORDER. 

-*PRE ORDER* = FRUIT IS NOT IN SEASON. IF YOU PLACE AN ORDER FOR AN ITEM LISTED AS *PRE ORDER* YOU ARE SECURING YOUR BOX TO BE SHIPPED ONCE THE FRUIT IS BACK IN SEASON OR AVAILABLE.
*CAVIAR LIMES CAN NOT SHIP TO CALIFORNIA*
Ripening Guide: 
Caviar Limes are shipped ripe and are ready to eat upon delivery. To open the caviar lime, use a sharp knife to cut the fruit in half. Inside the fruit, you will find the edible tiny, individual citrus bubbles. The fruit may contain small seeds that are inedible. The peel may be consumed as zest.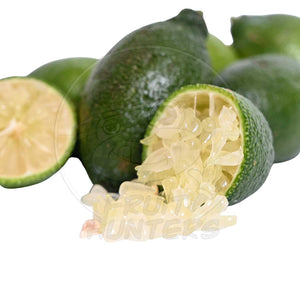 Caviar limes
Amazing quality and freshness