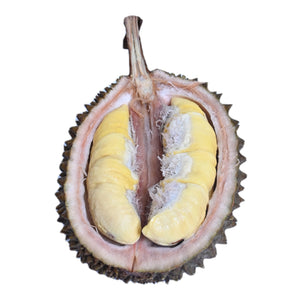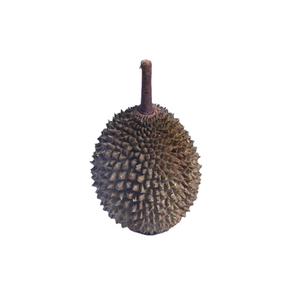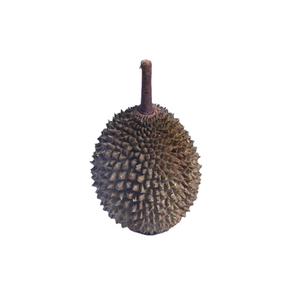 Durian Musang King Fresh Frozen
Durian is known as the king of fruits, it is intensely fragrant, and is super sweet. The flesh is like a creamy, dense custard that surrounds the large seeds. If you are new to Durian this is a great introduction as it is rich and sweet in flavor.
All of our Musang King Durian come from Malaysia and are Tree Ripened and allowed to naturally drop of the tree. We then freeze the Durian within a few hours of dropping! The result is a perfectly preserved fruit with out of this world flavor and freshness. 
Musang king (D197) is regarded as one of the best durian varieties in the world and is highly sought after. We ship you the Ready to eat Fresh Frozen Fruit Pulp including the seeds within. Upon arrival the fruit can be placed back into the freezer for later use or allowed to fully thaw before eating. Be aware of the powerful aroma if you live in a shared space!
ORDERS ARE SHIPPED  MONDAY-FRIDAY ON A BI-WEEKLY BASIS. WE MAKE EVERY EFFORT TO SHIP ALL ORDERS AS QUICKLY AS POSSIBLE TYPICALLY BETWEEN 2-14 BUSINESS DAYS. PLEASE NOTE: SHIPPING TIME AND COST PERTAINS TO THE TIME THE PACKAGE IS IN TRANSIT, NOT THE TIME IT TAKES FOR THE ORDER TO BE DELIVERED UPON PLACING THE ORDER.
-PLEASE READ FULL REFUND POLICY BEFORE PLACING AN ORDER. 

-*PRE ORDER* = FRUIT IS NOT IN SEASON. IF YOU PLACE AN ORDER FOR AN ITEM LISTED AS *PRE ORDER* YOU ARE SECURING YOUR BOX TO BE SHIPPED ONCE THE FRUIT IS BACK IN SEASON OR AVAILABLE.
Ripening Guide: 

May arrive thawed, be sure to consume immediately or refreeze for later consumption.