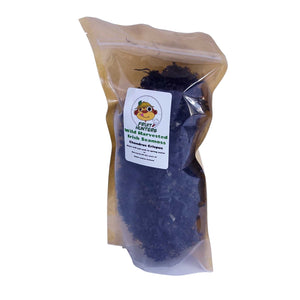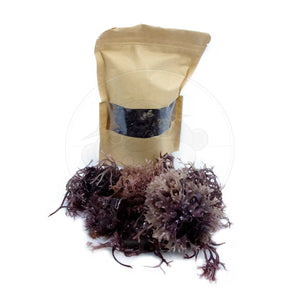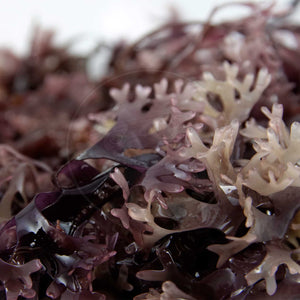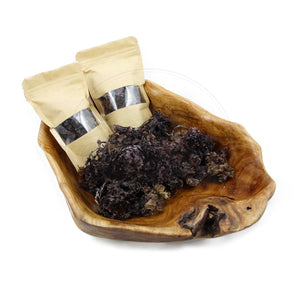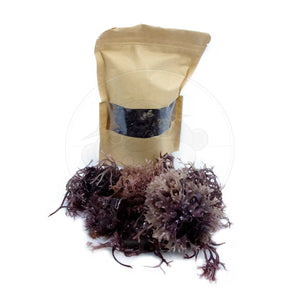 Irish Sea moss is a small sea algae that ranges in color depending on maturity and growing conditions such as amount of sunlight. This sea algae is the authentic Irish Sea moss, which is wild harvested from cold Atlantic coastlines by local fishermen. Chondrus Crispus grows exclusively in the cold northern waters, unlike Caribbean sea moss. Similar to Caribbean sea moss, Chondrus releases a gelling agent when boiled that is commonly known as carrageenan. Traditional uses include "setting" desserts such as puddings and ice-cream. It is an excellent thickening agent in soups and broths. This algae is sought after as it is known to have an extensive list of healing properties. 
FREE SHIPPING via USPS. IF YOU ORDER A BOX OF FRUIT WE SOMETIMES SHIP THEM TOGETHER IN THE SAME PACKAGE.
***Dry weight multiplies 5x when rehydrated!***
ORDERS ARE SHIPPED  MONDAY-FRIDAY ON A BI-WEEKLY BASIS. WE MAKE EVERY EFFORT TO SHIP ALL ORDERS AS QUICKLY AS POSSIBLE TYPICALLY BETWEEN 2-14 BUSINESS DAYS. PLEASE NOTE: SHIPPING TIME AND COST PERTAINS TO THE TIME THE PACKAGE IS IN TRANSIT, NOT THE TIME IT TAKES FOR THE ORDER TO BE DELIVERED UPON PLACING THE ORDER.
-PLEASE READ FULL REFUND POLICY BEFORE PLACING AN ORDER. 

-*PRE ORDER* = FRUIT IS NOT IN SEASON. IF YOU PLACE AN ORDER FOR AN ITEM LISTED AS *PRE ORDER* YOU ARE SECURING YOUR BOX TO BE SHIPPED ONCE THE FRUIT IS BACK IN SEASON OR AVAILABLE.
How to Make Sea Moss Gel: 

Step 1: Rinse your Sea Moss thoroughly, making sure to remove any excess salt or debris.
Step 2: Soak your desired amount of Sea Moss in a bowl with spring water for about 1-3 hours. 
Step 3: Blend in a high speed blender with the same water used to soak the Sea Moss. (You may add more spring water) 
Step 4: Enjoy your Sea Moss gel in smoothies, juices, or in a variety of other uses. 
Step 5: Store Sea Moss gel in an air tight container, in the refrigerator for up to 1 week.