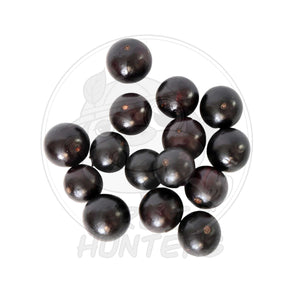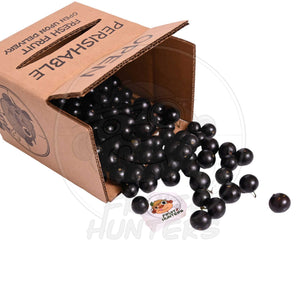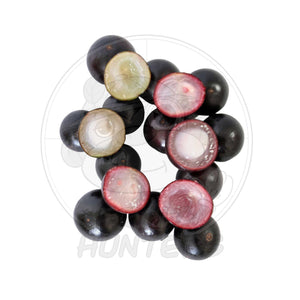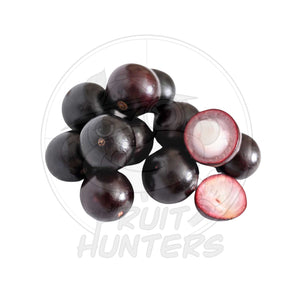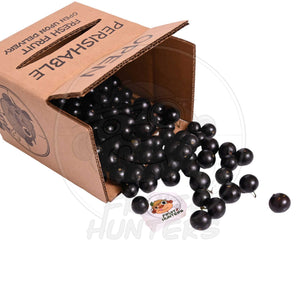 Plinia cauliflora, Brazilian Grape, or Jaboticaba is a fruit tree native to the beautiful country of Brazil. The fruit is about the same size as a grape with deep purple skin. Its sweet pulp is translucent-white and juicy. Interestingly, the fruit actually grows along the trunk of the tree. They can be consumed raw or used in desserts, wines, juices or jams. 
ORDERS ARE SHIPPED  MONDAY-FRIDAY ON A BI-WEEKLY BASIS. WE MAKE EVERY EFFORT TO SHIP ALL ORDERS AS QUICKLY AS POSSIBLE TYPICALLY BETWEEN 2-14 BUSINESS DAYS. PLEASE NOTE: SHIPPING TIME AND COST PERTAINS TO THE TIME THE PACKAGE IS IN TRANSIT, NOT THE TIME IT TAKES FOR THE ORDER TO BE DELIVERED UPON PLACING THE ORDER.
-PLEASE READ FULL REFUND POLICY BEFORE PLACING AN ORDER. 

-*PRE ORDER* = FRUIT IS NOT IN SEASON. IF YOU PLACE AN ORDER FOR AN ITEM LISTED AS *PRE ORDER* YOU ARE SECURING YOUR BOX TO BE SHIPPED ONCE THE FRUIT IS BACK IN SEASON OR AVAILABLE.
*JABOTICABA CAN NOT SHIP TO CALIFORNIA*
Ripening Guide: 
Jaboticaba is harvested ripe and are recommended to be consumed upon arrival. The entire fruit is edible, along with the skin and crunchy seeds.