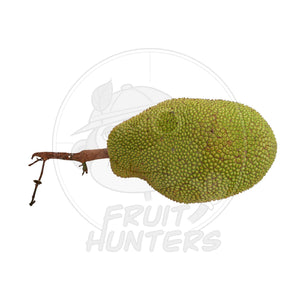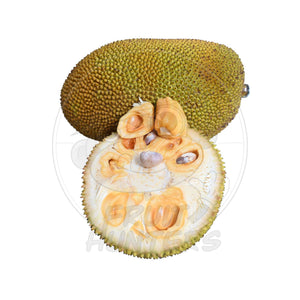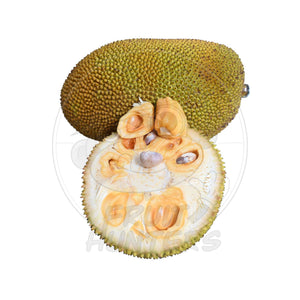 PRE-ORDER Jackfruit (Yaca)
Artocarpus heterophyllus commonly known as Jackfruit or Jaca originates in Southern India and the Malaysian rainforest. Jackfruit is the largest tree bearing fruit in the whole world, this fruit can weight up to 100 pounds.  The large oblong fruits have hard, rubber like shell that turn from green to yellow and at peak ripeness to yellowish-brown. The inside consists of multiple sections that are divided with yellow/orange thick pods. Each section of pods has large edible seeds, once cooked. The flavor can be described as a tropical explosion of mango, banana and pineapple. Its texture is fibrous, juicy and sometimes crunchy. There are many varieties we source in South Florida and each variety has its own unique color, texture, and flavors! 
Regular Box box brings 1-3 whole jack fruits.
ORDERS ARE SHIPPED  MONDAY-FRIDAY ON A BI-WEEKLY BASIS. WE MAKE EVERY EFFORT TO SHIP ALL ORDERS AS QUICKLY AS POSSIBLE TYPICALLY BETWEEN 2-14 BUSINESS DAYS. PLEASE NOTE: SHIPPING TIME AND COST PERTAINS TO THE TIME THE PACKAGE IS IN TRANSIT, NOT THE TIME IT TAKES FOR THE ORDER TO BE DELIVERED UPON PLACING THE ORDER.
-PLEASE READ FULL REFUND POLICY BEFORE PLACING AN ORDER. 

-*PRE ORDER* = FRUIT IS NOT IN SEASON. IF YOU PLACE AN ORDER FOR AN ITEM LISTED AS *PRE ORDER* YOU ARE SECURING YOUR BOX TO BE SHIPPED ONCE THE FRUIT IS BACK IN SEASON OR AVAILABLE.
*JACKFRUIT CAN NOT SHIP TO CALIFORNIA*
Ripening Guide: 
Jackfruit is shipped unripe, however may arrive ripe upon delivery. Once ripe the outer shell should have some give and be soft enough to indent the skin with your fingers. To consume, cut the fruit in half and remove the yellow pods from the rind. Enjoy raw, in smoothies or desserts.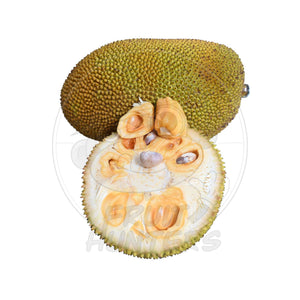 Great Fruit at a Great Price!!!
I order the small box and got a great Jackfruit that ripened perfectly - absolutely no sticky latex around the pods that were really delicious. Tastes just like Juicy Fruit gum from Wrigley's! A Jackfruit for under $70 was an awesome deal, thanks!!!
Jackfruit
It was really BIG I was surprised how BIG it was but other than that it was packed very well and was in perfect condition the fruit was beautiful and really great