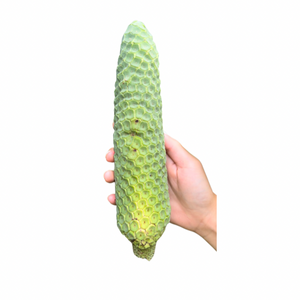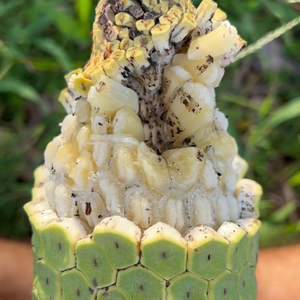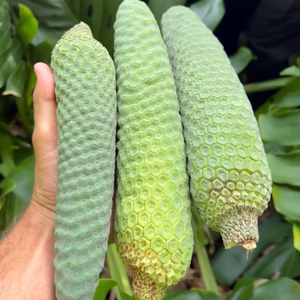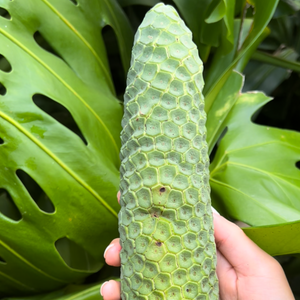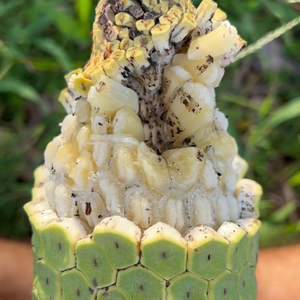 This fruit is commonly known as Monstera Deliciosa. Commonly grown as a house plant the monstera is quite popular but only seems to produce fruit when in the ideal environment. After the flower has been pollinated it can take 12 entires months for the fruit reach maturity. We then harvest them and ship them.
When ready to eat the scales will begin to fall off slowly on their own revealing the creamy, pineapple flavored pulp. Do not forcefully peel off scales. 
WARNING
*** Be sure not to eat the fruit before it has naturally ripened as it contains TOXIC calcium oxalates that can cause severe AND POTENTIALLY LIFE THREATENING HARM ***
When naturally ripe, the fruit is safe to consume and will have an intense tropical aroma! The flavor and texture can be compared to a combination of pineapple, soursop and passionfruit! 🍍
ORDERS ARE SHIPPED  MONDAY-FRIDAY ON A BI-WEEKLY BASIS. WE MAKE EVERY EFFORT TO SHIP ALL ORDERS AS QUICKLY AS POSSIBLE TYPICALLY BETWEEN 2-14 BUSINESS DAYS. PLEASE NOTE: SHIPPING TIME AND COST PERTAINS TO THE TIME THE PACKAGE IS IN TRANSIT, NOT THE TIME IT TAKES FOR THE ORDER TO BE DELIVERED UPON PLACING THE ORDER.
-PLEASE READ FULL REFUND POLICY BEFORE PLACING AN ORDER. 

-*PRE ORDER* = FRUIT IS NOT IN SEASON. IF YOU PLACE AN ORDER FOR AN ITEM LISTED AS *PRE ORDER* YOU ARE SECURING YOUR BOX TO BE SHIPPED ONCE THE FRUIT IS BACK IN SEASON OR AVAILABLE.
*MONSTERA CAN NOT SHIP TO CALIFORNIA*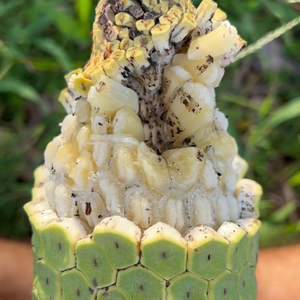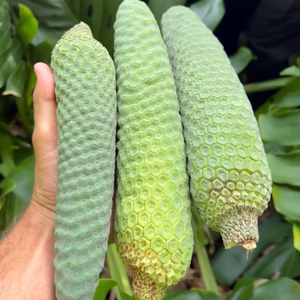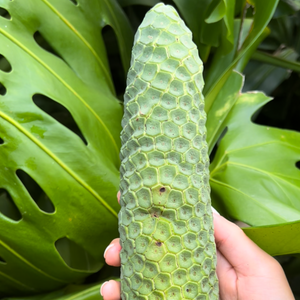 Sooooo good
My monsters was finally ready to eat after a week after delivery. It was worth the wait. I let it sit in the window, and checked it daily. Then today I was blessed to monsters crumbles. It tasted like a banana mango Creme pie with a hint of sangria wine lol
A Unique and Delicious Fruit!
I tried growing them as a boy and they did fine - just never flowered or got fruit! Finally got to try it thanks to Fruit Hunters and it is like it's namesake, delicious!!! Just need to be patient as it ripens but it is truly an extraordinary fruit and experience. Thanks again!
PRE-ORDER Monstera Deliciosa