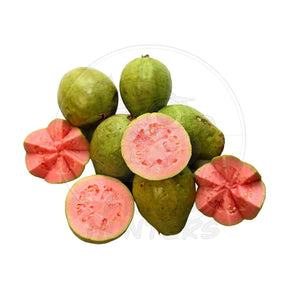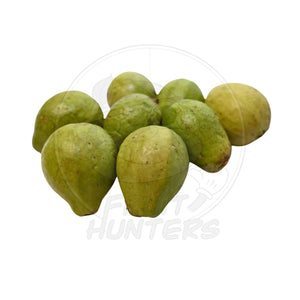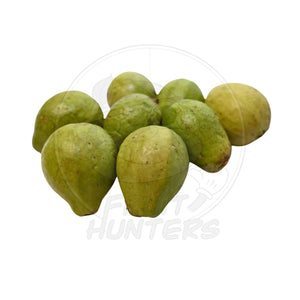 Red Guava, scientifically known as Psidium guajava is native to Mexico, Central America and the Caribbean. Red Guava is a small round/pear-shaped fruit that has a pungent and tropical fragrance. The skin of the fruit is light green, when ripe the skin will turn yellow. The red colored flesh is sweet with floral tones. It is often enjoyed as an apple as the flesh, skin and seeds are edible. *Guava may contain fruit fly larvae aka Guava worms as we do not spray toxic chemicals or pesticides* 
ORDERS ARE SHIPPED  MONDAY-FRIDAY ON A BI-WEEKLY BASIS. WE MAKE EVERY EFFORT TO SHIP ALL ORDERS AS QUICKLY AS POSSIBLE TYPICALLY BETWEEN 2-14 BUSINESS DAYS. PLEASE NOTE: SHIPPING TIME AND COST PERTAINS TO THE TIME THE PACKAGE IS IN TRANSIT, NOT THE TIME IT TAKES FOR THE ORDER TO BE DELIVERED UPON PLACING THE ORDER.
-PLEASE READ FULL REFUND POLICY BEFORE PLACING AN ORDER. 

-*PRE ORDER* = FRUIT IS NOT IN SEASON. IF YOU PLACE AN ORDER FOR AN ITEM LISTED AS *PRE ORDER* YOU ARE SECURING YOUR BOX TO BE SHIPPED ONCE THE FRUIT IS BACK IN SEASON OR AVAILABLE.
*RED GUAVA CAN NOT SHIP TO CALIFORNIA*
Ripening Guide: 

Red Guava is shipped unripe, however may arrive ripe upon delivery. To consume, eat like an apple, or cut the fruit in half and scoop out the red flesh. The seeds, skin, and pulp are all edible.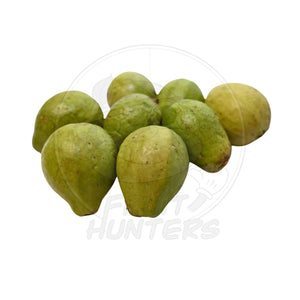 Red Guava
Delicious, great price, fast delivery.
Awesome Guava
My guava was so good. Thank you! Being from Illinois it's hard to get pink guava.
Love them will order often