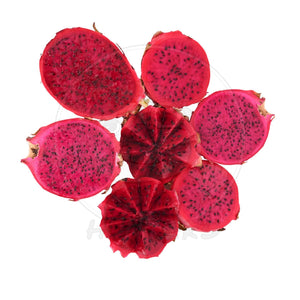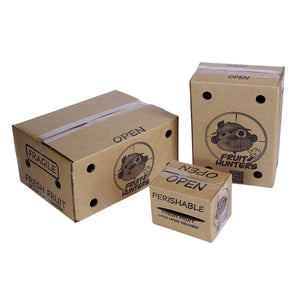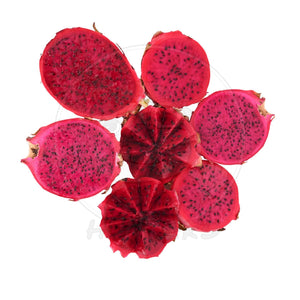 PRE-ORDER Red Dragon Fruit
Red Dragon fruit is intensely colored and fun to eat. This fruit is scientifically known as Hylocereus costaricensis.  It is native to Costa Rica and Nicaragua. South Florida is our source, as we work directly with an organic farm with multiple varieties. We have access to multiple varieties and the ones in your box will vary depending on when you order. The flavors of these varieties differ very slightly. The fruit is a bright magenta color and is loaded with edible seeds. The taste is similar to watermelon, strawberry ad kiwi.
This fruit contains a powerful antioxidant called indicaxanthin. Antioxidants may help protect the body from damage caused by free radicals. If you eat enough of this highly pigmented fruit it may just come out the same color it started with.
ORDERS ARE SHIPPED  MONDAY-FRIDAY ON A BI-WEEKLY BASIS. WE MAKE EVERY EFFORT TO SHIP ALL ORDERS AS QUICKLY AS POSSIBLE TYPICALLY BETWEEN 2-14 BUSINESS DAYS. PLEASE NOTE: SHIPPING TIME AND COST PERTAINS TO THE TIME THE PACKAGE IS IN TRANSIT, NOT THE TIME IT TAKES FOR THE ORDER TO BE DELIVERED UPON PLACING THE ORDER.
-PLEASE READ FULL REFUND POLICY BEFORE PLACING AN ORDER. 

-*PRE ORDER* = FRUIT IS NOT IN SEASON. IF YOU PLACE AN ORDER FOR AN ITEM LISTED AS *PRE ORDER* YOU ARE SECURING YOUR BOX TO BE SHIPPED ONCE THE FRUIT IS BACK IN SEASON OR AVAILABLE.