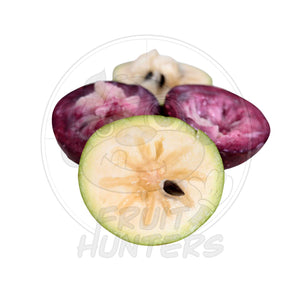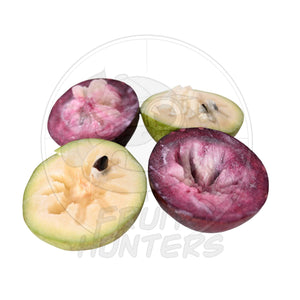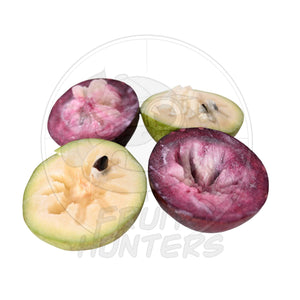 Chrysophyllum cainito commonly known as Caimito, Star Apple or Milk fruit is a fruit native to the Greater Antilles and West Indies. The fruit is shaped like a sphere and has smooth glossy skin. Depending on the variety, the color of the skin can be either pale green or purple in color. When ripe, the pulp is sweet and smooth similar to a grape. It is an excellent source of healthy plant compounds and is rich in antioxidants. 

ORDERS ARE SHIPPED  MONDAY-FRIDAY ON A BI-WEEKLY BASIS. WE MAKE EVERY EFFORT TO SHIP ALL ORDERS AS QUICKLY AS POSSIBLE TYPICALLY BETWEEN 2-14 BUSINESS DAYS. PLEASE NOTE: SHIPPING TIME AND COST PERTAINS TO THE TIME THE PACKAGE IS IN TRANSIT, NOT THE TIME IT TAKES FOR THE ORDER TO BE DELIVERED UPON PLACING THE ORDER.
-PLEASE READ FULL REFUND POLICY BEFORE PLACING AN ORDER. 

-*PRE ORDER* = FRUIT IS NOT IN SEASON. IF YOU PLACE AN ORDER FOR AN ITEM LISTED AS *PRE ORDER* YOU ARE SECURING YOUR BOX TO BE SHIPPED ONCE THE FRUIT IS BACK IN SEASON OR AVAILABLE.
*STAR APPLE CAN NOT SHIP TO CALIFORNIA*
Ripening Guide: 
Star Apple is picked ripe and is ready to eat upon delivery. To consume, cut the fruit in half (horizontally) where you will find a star shape within the pulp. Scoop out the pulp with a spoon and compost the seeds along with the rind and peel as they are inedible.