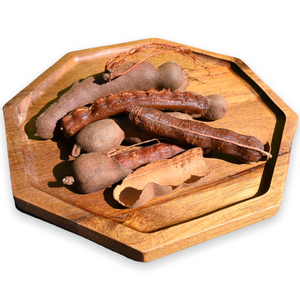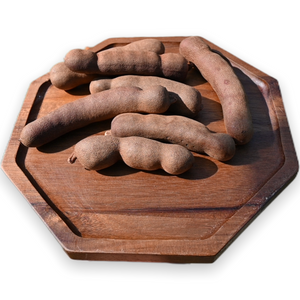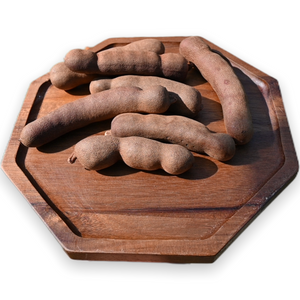 Tamarind scientifically known as Tamarindus indica is a tropical fruit tree native to Africa. The fruit grows in a dark brown pod that cracks with ease when mature. The texture of Tamarind is slightly chewy, gummy and sticky. The complex flavors of Tamarind range from sweet to sour with hints of flavors reminiscent of citrus and caramel. It is often used in many different dishes, drinks and even traditional medicines. 
ORDERS ARE SHIPPED  MONDAY-FRIDAY ON A BI-WEEKLY BASIS. WE MAKE EVERY EFFORT TO SHIP ALL ORDERS AS QUICKLY AS POSSIBLE TYPICALLY BETWEEN 2-14 BUSINESS DAYS. PLEASE NOTE: SHIPPING TIME AND COST PERTAINS TO THE TIME THE PACKAGE IS IN TRANSIT, NOT THE TIME IT TAKES FOR THE ORDER TO BE DELIVERED UPON PLACING THE ORDER.
-PLEASE READ FULL REFUND POLICY BEFORE PLACING AN ORDER. 

-*PRE ORDER* = FRUIT IS NOT IN SEASON. IF YOU PLACE AN ORDER FOR AN ITEM LISTED AS *PRE ORDER* YOU ARE SECURING YOUR BOX TO BE SHIPPED ONCE THE FRUIT IS BACK IN SEASON OR AVAILABLE.
Ripening Guide: 

Tamarind is ready to eat upon delivery. Crack open the shell to consume the tangy-sweet and sticky pulp that surrounds dark brown seeds. Seeds and shell are inedible.