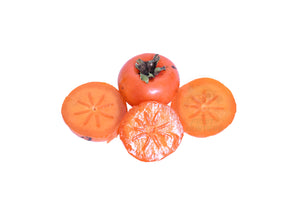 PRE-ORDER Tropical Persimmon
Triumph Persimmon scientifically known as Diospyros virginiana is an Israeli cultivar that grows well in South Florida. This variety of Persimmon produces small, round fruit with smooth edible skin, that turn from green to yellow to bright orange once ripe. The fruit is juicy and sweet with a jelly-like texture and flavors reminiscent of honey. This variety can ONLY be consumed fully ripe, making sure the fruit is completely soft all around. Otherwise, if consumed underripe it will be extremely astringent and unpleasant. Persimmons are loaded with antioxidants and vitamins. 
ORDERS ARE SHIPPED  MONDAY-FRIDAY ON A BI-WEEKLY BASIS. WE MAKE EVERY EFFORT TO SHIP ALL ORDERS AS QUICKLY AS POSSIBLE TYPICALLY BETWEEN 2-14 BUSINESS DAYS. PLEASE NOTE: SHIPPING TIME AND COST PERTAINS TO THE TIME THE PACKAGE IS IN TRANSIT, NOT THE TIME IT TAKES FOR THE ORDER TO BE DELIVERED UPON PLACING THE ORDER.
-PLEASE READ FULL REFUND POLICY BEFORE PLACING AN ORDER. 

-*PRE ORDER* = FRUIT IS NOT IN SEASON. IF YOU PLACE AN ORDER FOR AN ITEM LISTED AS *PRE ORDER* YOU ARE SECURING YOUR BOX TO BE SHIPPED ONCE THE FRUIT IS BACK IN SEASON OR AVAILABLE.
*TROPICAL PERSIMMON CAN NOT SHIP TO CALIFORNIA*
Ripening Guide:
Persimmon is shipped yellow/light orange and underripe. However, may arrive ripe upon delivery. When ripe, the fruit should be bright-orange in color and soft to the touch. Sometimes, the skin will begin to crack and leak juice, at this point the fruit is ready to eat. The entire fruit is edible (including the skin and seeds). Do not eat the crown of the fruit.