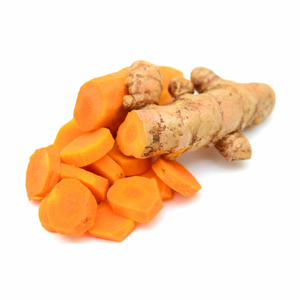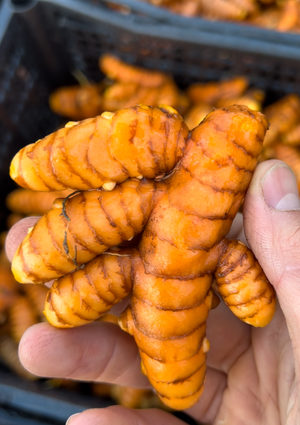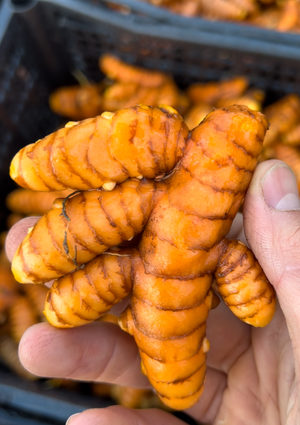 Turmeric scientifically known as, Curcuma longa is a flowering plant belonging to the ginger family, Zingiberaceae. Turmeric is native to southern India and Indonesia where it is widely cultivated today and used in many traditional dishes. Turmeric powder is a well known, medicinal and powerful spice that comes from the rhizome of the turmeric plant. Studies show that Turmeric can help reduce inflammation, boost energy levels, improve mobility, flexibility and more!  
This box contains Fresh Certified Organic Turmeric from our farm.
ORDERS ARE SHIPPED  MONDAY-FRIDAY ON A BI-WEEKLY BASIS. WE MAKE EVERY EFFORT TO SHIP ALL ORDERS AS QUICKLY AS POSSIBLE TYPICALLY BETWEEN 2-14 BUSINESS DAYS. PLEASE NOTE: SHIPPING TIME AND COST PERTAINS TO THE TIME THE PACKAGE IS IN TRANSIT, NOT THE TIME IT TAKES FOR THE ORDER TO BE DELIVERED UPON PLACING THE ORDER.
-PLEASE READ FULL REFUND POLICY BEFORE PLACING AN ORDER. 

-*PRE ORDER* = FRUIT IS NOT IN SEASON. IF YOU PLACE AN ORDER FOR AN ITEM LISTED AS *PRE ORDER* YOU ARE SECURING YOUR BOX TO BE SHIPPED ONCE THE FRUIT IS BACK IN SEASON OR AVAILABLE.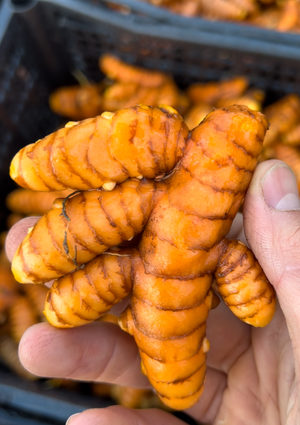 Turmeric
Fresh, and packaged nicely. Very good product, and no rotton ones in the bunch!